Lord S.M.Zett has created a new MSX case mod. This time he used a well known style called 'steampunk'. Although the motherboard comes from  an NMS8245, this new MSX is much smaller, and has a case mainly made from wood.
2011's MSX fair will be held on Saturday the 22nd of January. The location is the big room (B3) of Wijkcentrum (community centre) Hatert in Nijmegen and it opens for visitors at 10am. Darkstone will be there!
Idar is a region on the island of Daq, somewhere in Earth's history. When
a lord (or land lord) of Idar knows he's soon about to pass away, a new
lord will have to be chosen. This is done by means of an old game, to be
played by the lord's house.
In the shape of a traditional board game, four aspiring land lords strive
for the honorable title of lord. It's a fierce battle where the dice will point out the winner.
For msxdev10 we created  this game! Download it now here ROM and Manual. Read more on the site of msxdev here.
Special Flashrom version here!
Busy! Busy!
New website and the upcomming msxdev10 game DAQ Lord of Idar.
But now a demo of a earlier DAQ game.
It's just a demo for the pc but the gfx are made in msx screen 4!
Viel spaß!
After BEEZ in 2006, it's time for a new Darkstone game for msxdev10.
It's called: DAQ Lord of Idar. A combi of a board-game and an action/dice game.
Hopefully a first place in the contest.
Welcome to the new Darkstone website.
Not all of our actions/products are on this page yet.
Enjoy!
Lord S.M.Zett
That's nice! An nms8255 with a leatherlook. Why did they not make it standard like this?
An NMS8220 case painted with a blue/black/silver-like snake skin.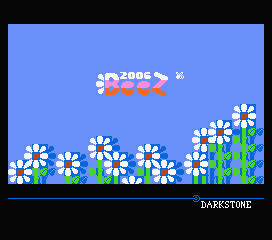 Game created by Darkstone in 2006 for the msxdev06 contest.
It's a small game made totally in MSX-BASIC!